PPA structuring process steps:
1. Defining PPA strategy: Crafting a successful PPA journey begins with a clear strategy. We collaborate with you to set business objectives, risk appetite, and sustainability goals to formulate a robust PPA strategy.
2. Commercial and legal evaluation: We ensure that the strategy not only aligns with your financial objectives but also adheres to regulatory and contractual obligations.
3. Identification of offtakers: Our thorough analysis of market trends, creditworthiness, and alignment of values, will help you pinpoint the off­takers that match perfectly with your strategic vision.
4. Running the tender: Leveraging our extensive industry network, we conduct a competitive tender process that boosts market participation. Our priority is to attract offers that enhance your revenue streams while keeping an eye on associated risks.


5. Evaluation of offers: Rigorous analysis is at the core of our process. We evaluate offers on a variety of metrics such as price, delivery structures, inherent asset risks, contractual terms, to ensure the fulfillment of your long-term objectives.
6. Shortlisting offtakers: Following an in-depth evaluation, we shortlist the off­takers that best meet your strategic and financial criterias to the next stage for more in-depth discussions.
7. Negotiation of term sheets and risk evaluation: We will engage with shortlisted off­takers to ensure that main contractual terms and conditions do not go against your key objectives. Term sheets will be evaluated according to commercial and legal risk-linked metrics.
8. Selection of final offtaker: After evaluating the individual term sheets, a decision will be made with you to nominate the offtaker that best suits your strategic objectives to move to final PPA contract negotiations.
9. Negotiation and execution of PPA contract: Joined by legal experts, we will ensure that the selected PPA offer is translated into a comprehensive and equitable contract. We work to minimize ambiguity, allocate risks effectively, and safeguard your long-term interests.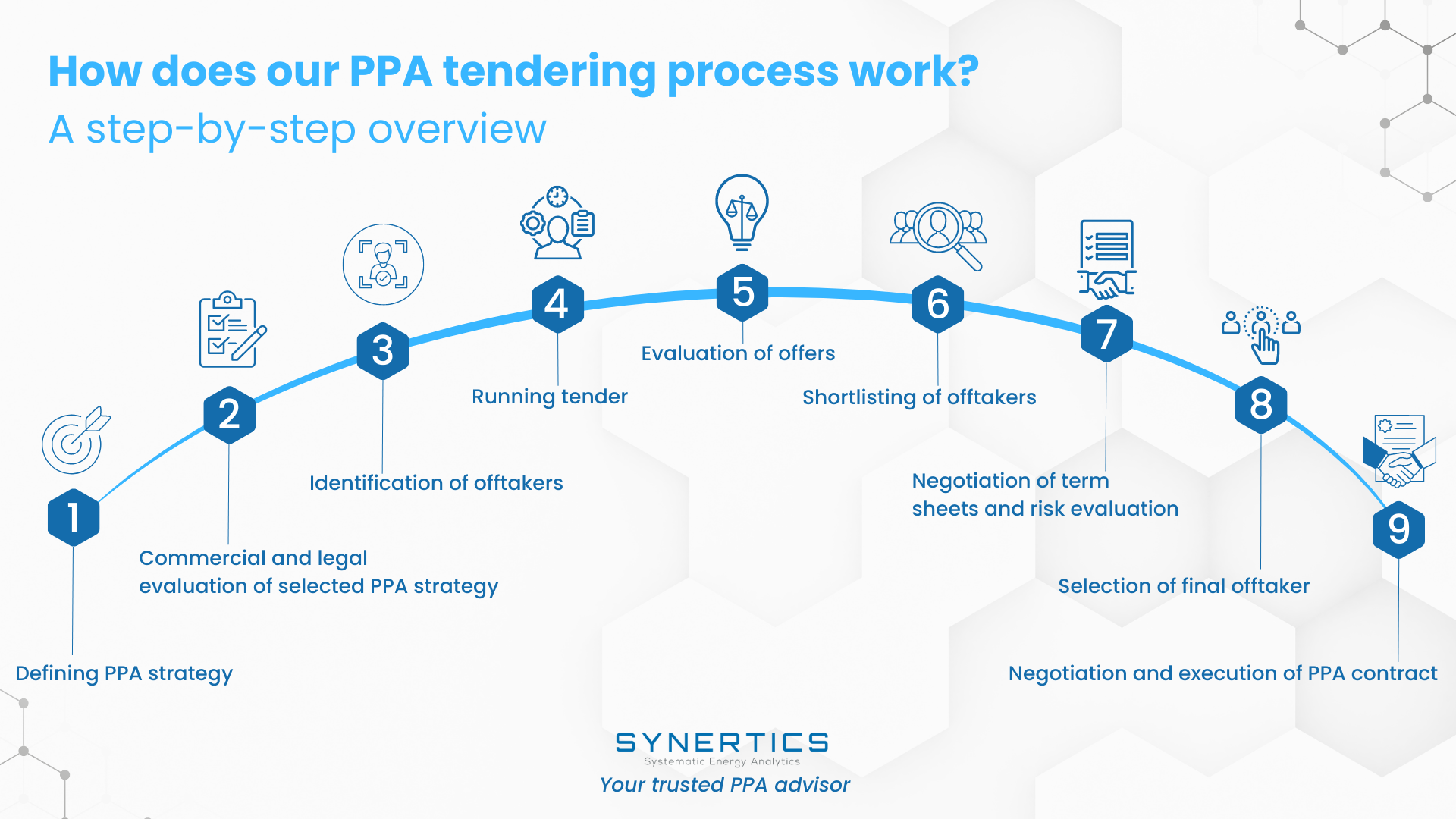 About Synertics
Synertics provides advisory services and develops digital data-driven solutions for the energy industry with the purpose of driving productivity and transferring knowledge.