Introduction
Europe's energy landscape is evolving, but fossil fuels still constitute a significant portion of its electricity generation. According to recent data, 39% of EU electricity is generated from fossil fuels, including a 20% share from gas. This article aims to explore the correlation between the future prices of gas and electricity, focusing on the price trends observed for the futures with the expiration year 2024 for Germany, France, Sweden, Portugal, and Greece.
Updated European Dependence on Fossil Fuels:
In 2023, the European Union continues to be significantly dependent on fossil fuels for its electricity generation. Fossil fuels collectively contribute to 39% of the electricity mix, equating to 1,104 TWh. Within this category, coal is responsible for 16%, or 447 TWh, while natural gas accounts for a notable 20%, or 557 TWh. Additionally, other forms of fossil fuels contribute 3.6%, which translates to 100 TWh. Given natural gas's considerable 20% share in the energy mix, its price fluctuations could undeniably have extensive consequences across the EU's energy landscape.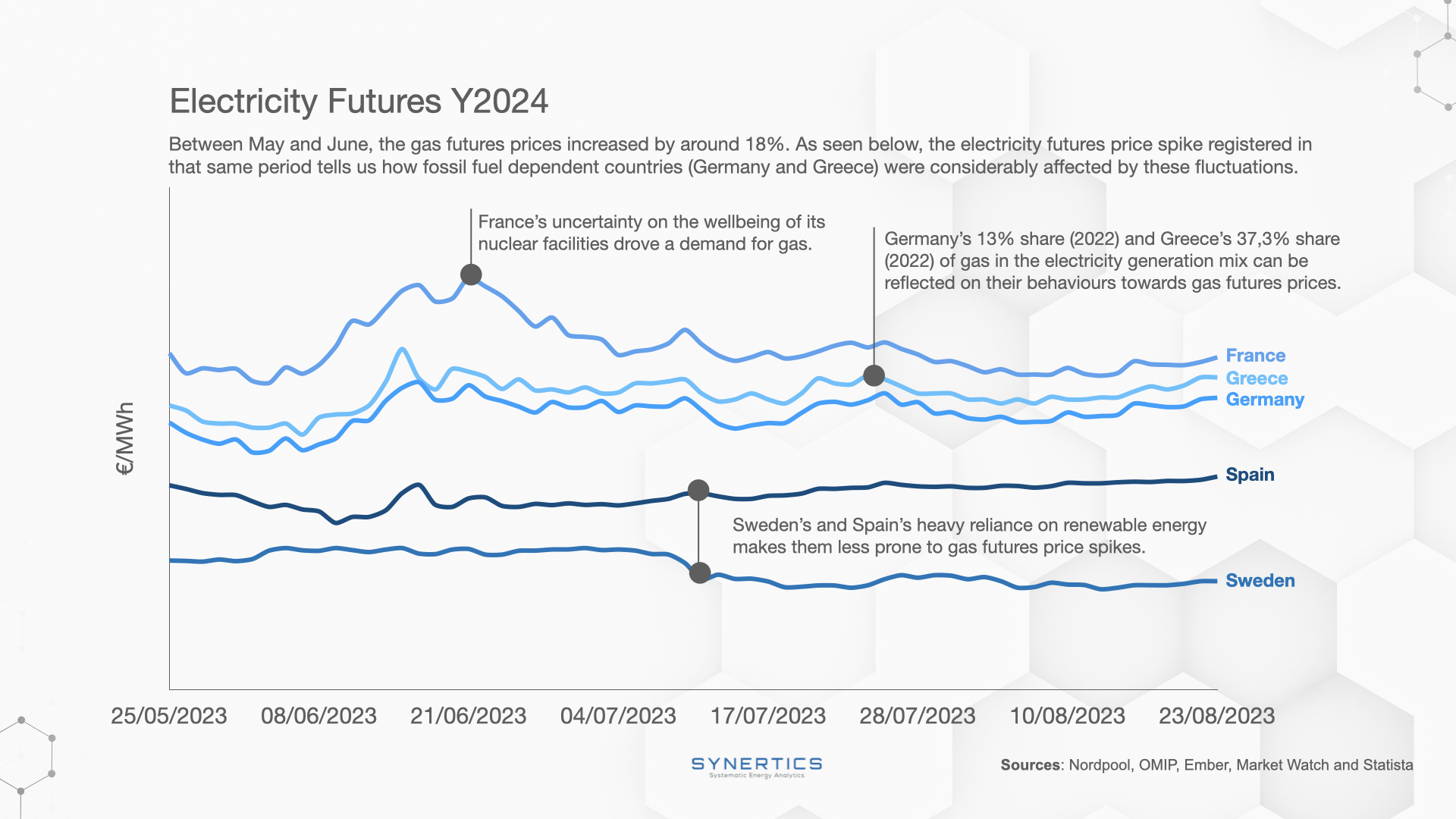 Country-Specific Insights
France
Although primarily nuclear-dependent, France's future electricity prices are also influenced by gas prices, especially during peak demand periods. Moreover, the uncertainty on the well-being of its nuclear facilities drove a demand for gas.
Germany
Germany, a significant energy player in Europe, is especially sensitive to shifts in future gas prices, primarily because of its considerable reliance on fossil fuels like natural gas.
Greece
Greece is highly sensitive to shifts in future gas prices due to its heavy reliance on fossil fuels.
Spain
Spain's diversified energy matrix, which includes a robust renewable component, offers some resilience against the volatility of fossil fuel prices. In contrast.
Sweden
Sweden, with its strong focus on nuclear and hydroelectric power, is not entirely insulated from the broader fossil fuel-based European energy trends affecting future market prices.
Germany's 13% share (2022) and Greece's 37,3% share (2022) of gas in the electricity generation mix can be reflected on their behaviours towards gas futures prices.
Sweden's and Spain's heavy reliance on renewable energy makes them less prone to gas futures price spikes.
Observational Findings: Last 3 months
In our analysis of the future energy markets for these countries, it was observed that the future prices for both gas and electricity for the year 2024 showed upward trends in May and June of this year. This synchronized rise in future prices emphasizes a certain degree of correlation between future electricity prices and natural gas prices, particularly in markets that have a high proportion of gas-fired power plants in their electricity generation mix.
Conclusion
In light of updated data showing that 39% of EU electricity is generated from fossil fuels, including a 20% share from gas, the relationship between future gas and electricity prices becomes even more critical. While the sensitivity to gas price fluctuations varies among countries like Germany, France, Sweden, Portugal, and Greece, the broader trend of fossil fuel dependency in the EU makes this a critical issue for all.
As the study of future markets remains a crucial tool for understanding these dynamics, investing in renewable energy remains an effective strategy to mitigate the impact of rising gas prices, as demonstrated by countries like Portugal. Both forecasts and past learnings help us interpret what can be around the corner, so data becomes an imperative asset to help plan risk-mitigating strategies and navigate the volatility of futures.
About Synertics
Synertics provides advisory services and develops digital data-driven solutions for the energy industry with the purpose of driving productivity and transferring knowledge.