By the end of 2022, Portugal registered 6 GW of installed onshore wind capacity. As for offshore, the Windfloat Atlantic, an innovative project with a 25 MW installed capacity, was the only one to be launched in this subsector. However, the country is preparing to change the picture.

In line with the REPowerEU plan, Portugal has set the ambitious goal of installing 10 GW of offshore wind developments by 2030. Such an announcement naturally captivated international interest, as did the location auctions that are slated to take place later this year.

As the government has designated 3.393,44 km2 of maritime areas for this project, the target areas have yet to be approved. Recent reports point out that by the end of this month, there will be a decision on whether Viana do Castelo, Leixões, Figueira da Foz, Ericeira, Sintra/Cascais, and Sines will definitely be the stages of this new chapter of renewable energy in Portugal.

We looked at the potential returns of these locations to better understand how much value can be expected to be retrieved from the projected offshore sites. Relying on 2022's capture prices, we can observe a homogenous pattern throughout the country:

Viana do Castelo: 159,74 €/MWh
Leixões: 160,74 €/MWh
Figueira da Foz: 162,38 €/MWh
Ericeira: 165,14 €/MWh
Sintra/Cascais: 165,57 €/MWh
Sines Norte: 165,14 €/MWh
Sines Sul: 165,46 €/MWh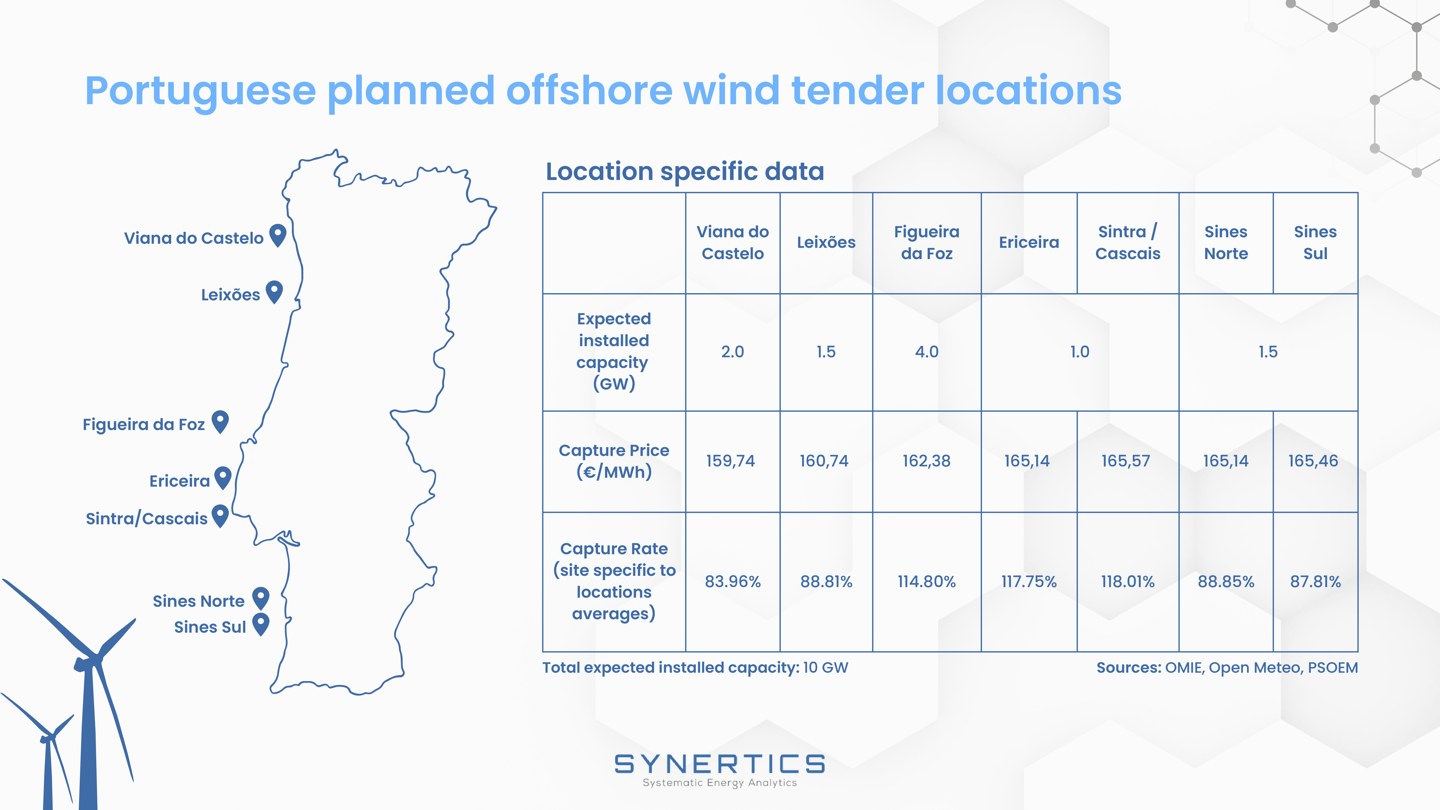 Our expectations are that, from a wind resource and capture prices perspective, Ericeira and Sintra/Cascais will receive the most competitive bids. For one, they have the highest wind speed and also provide the highest expected revenues per MWh produced.
About Synertics
Synertics provides advisory services and develops digital data-driven solutions for the energy industry with the purpose of driving productivity and transferring knowledge.