Germany is one of the European markets covered by our PPA Evaluation Tool. Like many other electricity markets, it has gone through a turbulent period with sharply rising electricity prices. To highlight the impact on renewable energy plants we computed the PV Solar and Onshore Wind capture prices between January and December 2022 throughout individual locations in Germany.


Methodology
We used hourly wind speed and global irradiance data gathered from a variety of meteorological stations across Germany to estimate the production of Solar PV and Onshore Wind assets. The data was then combined with Germany's intraday prices to compute the capture prices of the individual locations.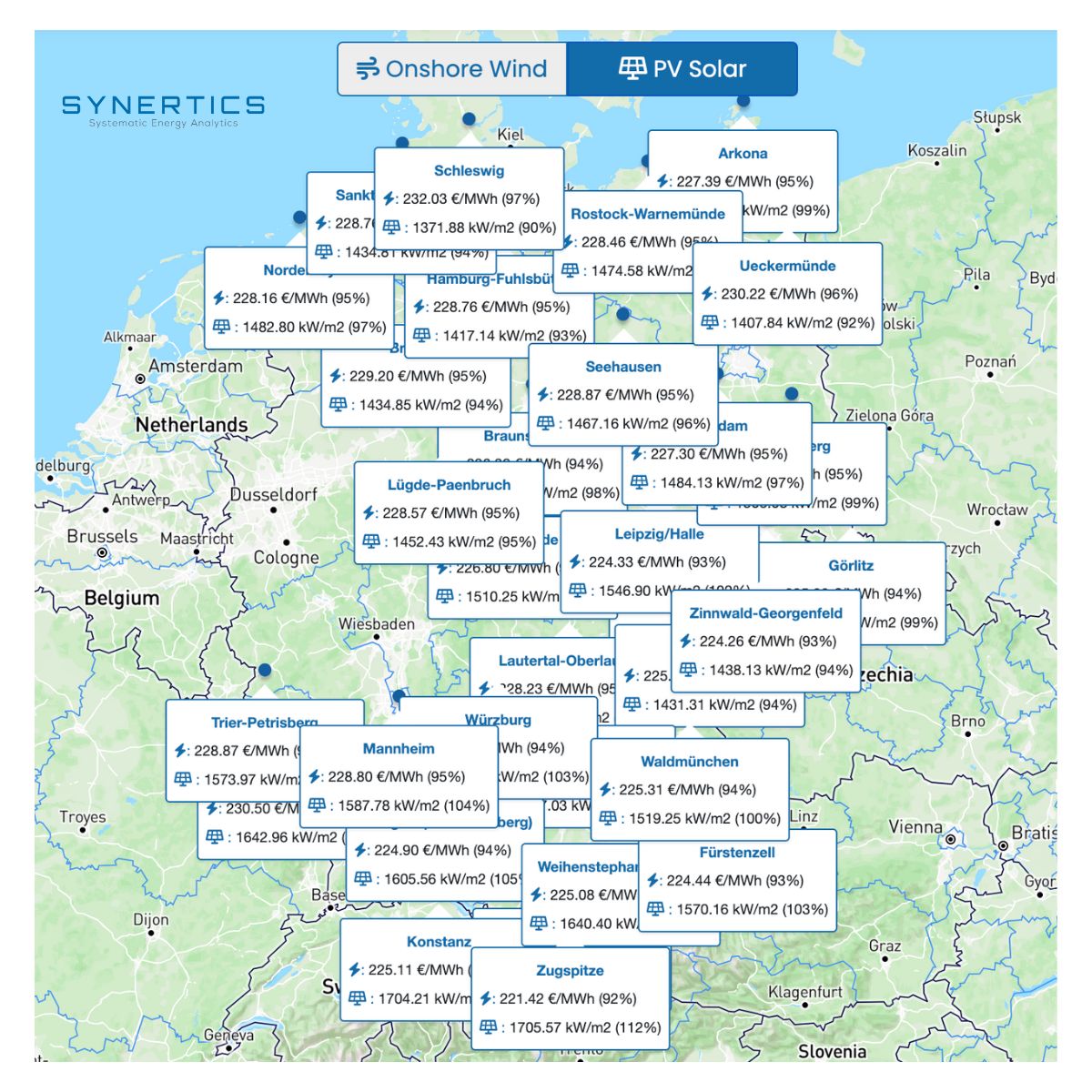 Findings
Even though wind speed and global irradiance resources varied greatly across Germany, the respective capture price spreads between locations were comparatively mild. This was driven by similar weather patterns across locations, which defined the hourly availability of renewable resources.
The highest PV Solar price spreads were between the weather stations of Zugspitze (221.42€/MWh) and Schleswig (232.03€/MWh) with global irradiance values of 1705.57 kW/m2 and 1371.88 kW/m2 respectively.
For Onshore wind, the biggest spread was seen between the weather stations of Strucklahnungshörn (336.29€/MWh) and Selb-Spielberg (146.36€/MWh) with global windspeed values of 5.45m/s and 4.26 m/s respectively.

The results are imperative when calculating the value of assets according to their locations renewable resources and market-specific electricity prices.


What can we expect for 2023?
As European countries' regulatory systems react to the surge in electricity prices to protect the energy security for industries and household consumers, the landscape for free market-based renewable energy investors becomes increasingly uncertain. An example for this is the recently approved European gas price cap, which can make the estimation of future electricity prices even more challenging and harm the closure of power purchasing agreements.


About Synertics
Synertics provides advisory services and develops digital data-driven solutions for the energy industry with the purpose of driving productivity and transferring knowledge.