The Challenge
This past November we were invited to participate in the "TransnetBW challenge - Energy System 2050" hosted by the DLG.Prototype Club at the EuroTier / Energy Decentral 2022, in Hannover. The challenge provided us with a good opportunity to combine our energy market knowledge with our big data analytics skills to solve a complex topic under a fast paced environment.
Synertics shared the event stage with a number of prequalified companies specialized in the energy sector for a 14 day period.
The Goal
The main goal of the challenge was to identify and evaluate possible business cases through the introduction of vehicle-to-grid (V2G) services by private e-cars owners, i.e. under which conditions (economic, technical constraints) private citizens are assumed to be willing to offer this flexibility service to the grid, and which incentives should be put in place to mobilize such flexibility potential. In addition, an assessment of a trade-off between the cost of participation to V2G on the one side and the need for alternative flexibility options (e.g. stationary batteries, grid reinforcement) on the other side was analyzed.
Our proposal
We started by developing a model based on the Transnet BW scenarios, that automatically calculates the marginal costs of electricity (based on the merit order) of individual grid zones. The approach allows Transnet BW to define in which zones certain types of batteries for ancillary services are most economically viable.
Through this model, we were able to reduce the grid operating costs and constraints and thus help the customer identify the financial value of various ancillary service types. As the product evaluates what type of batteries could make sense for each grid zones it allows an optimization of the provision of vehicle-to-grid (V2G) services for the customer.
TransnetBW counted on the grid operators and electricity generators as their key partners at this stage. However, to achieve a Minimum Viable Product in 100 days, Synertics would step in as a key supplier for analyzing the grid costs of various grid zones and bringing providers of ancillary services to the table. To reach this, we would deliver data-driven analytical-based products to TransnetBW and help evaluate the financial value of ancillary services, as well as, bring key stakeholders together.
Our proposal could then be associated with creating value for grid operators, who can transfer the cost and grid constraint reduction benefits to the final customers. This way, making them our most important customers.
As for the expected cost structure, the most important costs inherent in our business model to get from prototype to MVP within 100 days perspective would deal with a close collaboration between the model assumptions of teams in Stuttgart and Munich. Therefore, we identified human resources as the most expensive key resource and the model assumption finalization and automation as the most expensive key activities.
During the 100-day expected timeline, the most important milestones would be the refining of model assumptions and the evaluation of economic value for ancillary services in various grid zones. In order to tackle these milestones, we would require good communication channels and the availability of the Transnet BW modeling team so we could achieve a transparent share of data and model assumptions.
Results
Our findings of the current challenge can then be summarized through different chapters, as it follows:
The Merit Order 2050
As renewables become the cheapest source of electricity and drive green H2 prices down, fossil fuels are expected to be used only in peak demand periods. Also, battery inverters are expected to be one of the cheapest sources and practical balancing options. Finally, when comparing V2G and NoV2G services, we encountered similar baseload prices between scenarios.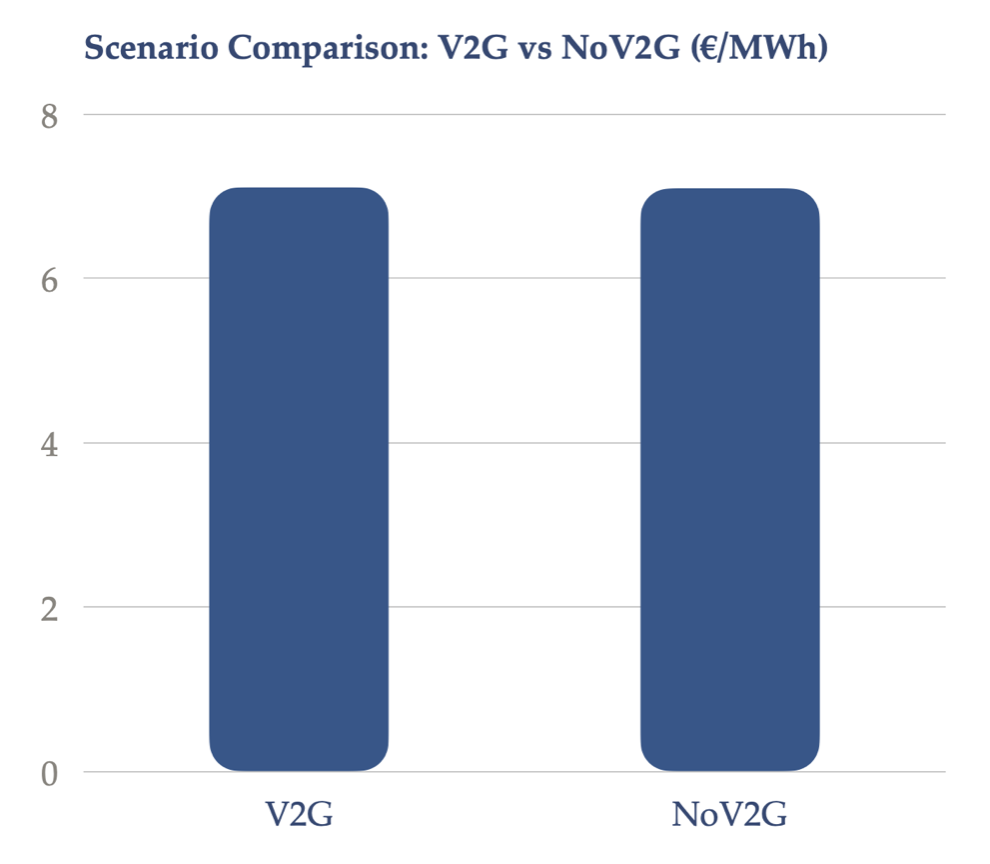 Average hourly profiles
Whilst V2G services are activated at peak movement hours, electricity prices are relatively stable. Moreover, production peaks at noon, mainly due to solar installed capacity.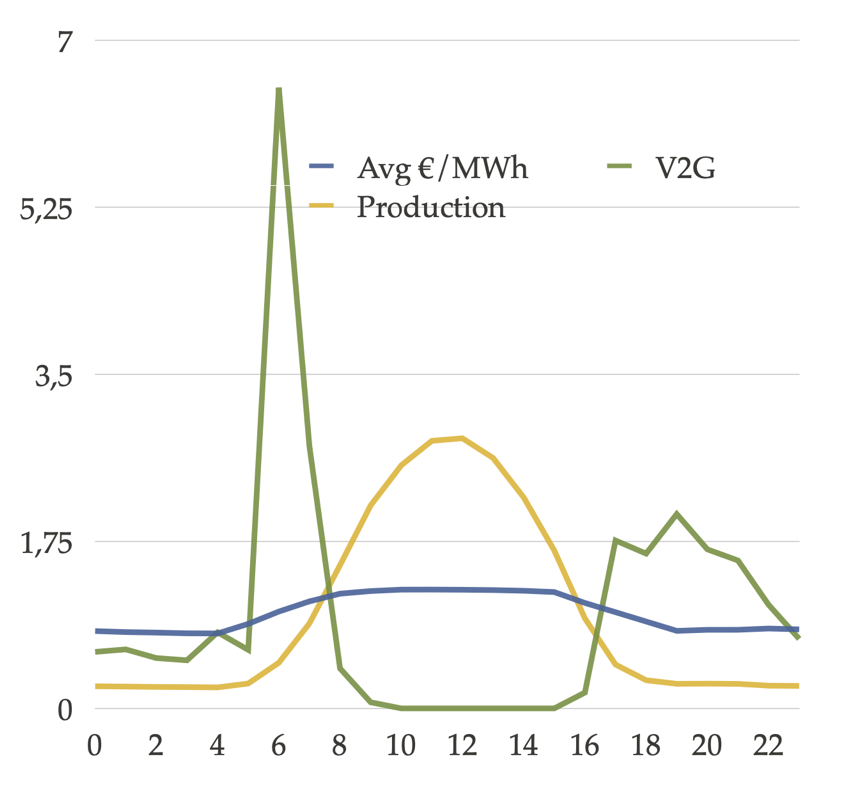 Vehicle Efficient Comparision
According to the cost data, internal combustion, and natural gas vehicles have the lowest cost in terms of investment in their efficiency, operating years, and hours in a year.
Based on the computed merit order curve calculated, all vehicle types could just be economically used during very high exceptional peak demand periods.
As additional hurdles worth mentioning, we highlight the regulatory problems, the uncertainty of availability, the investment and maintenance costs, and the technical requirements.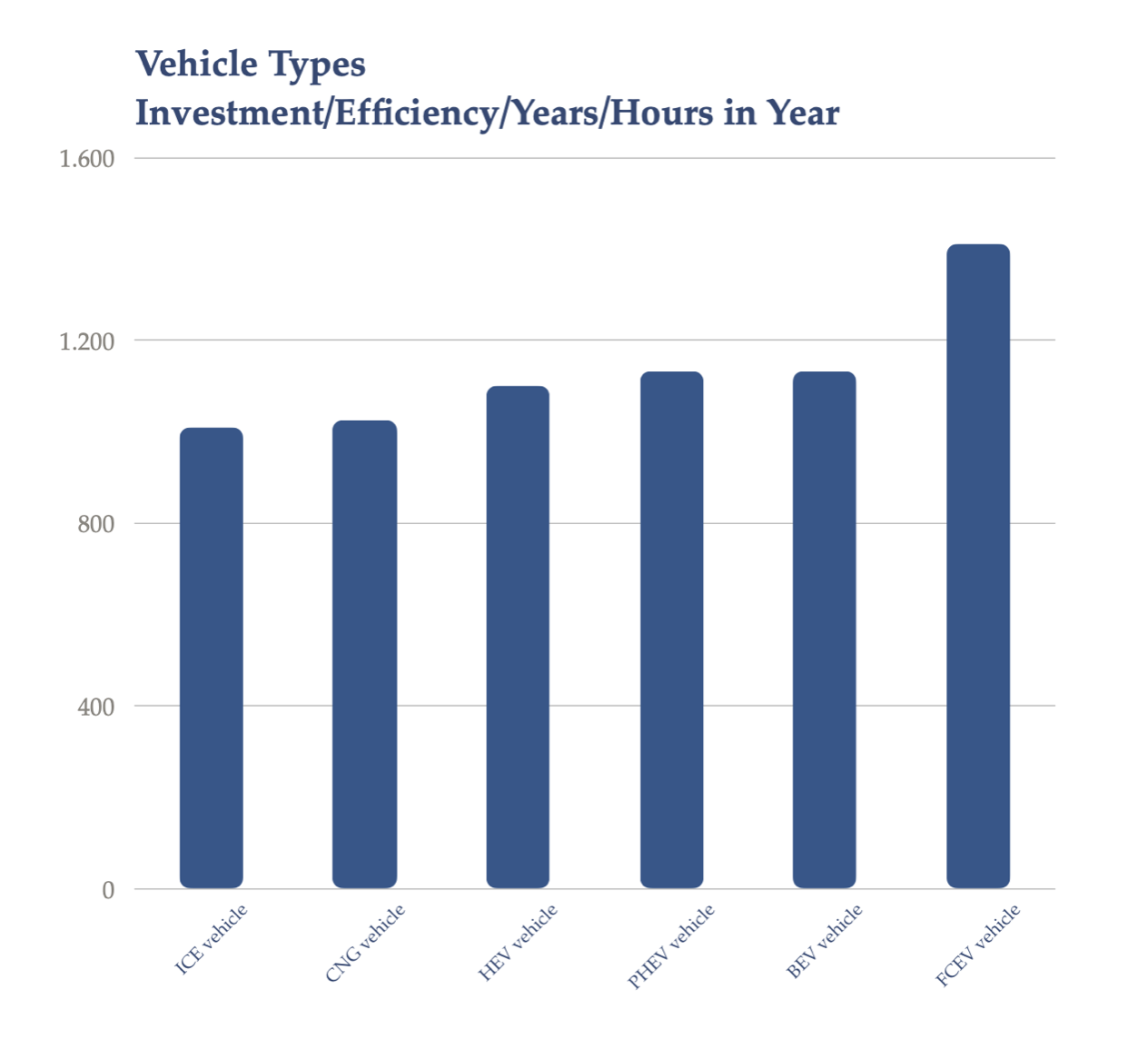 Alternative Ancillary Service Options
Newly built renewable energy plants offer a natural fit for ancillary services for the following reasons:
Batteries could absorb excess electricity before proceeding with curtailments
Renewable projects are looking for additional sources of revenue in an increasingly competitive market.
Grid connection points are becoming scarce, due to grid congestion opening a natural fit to batteries.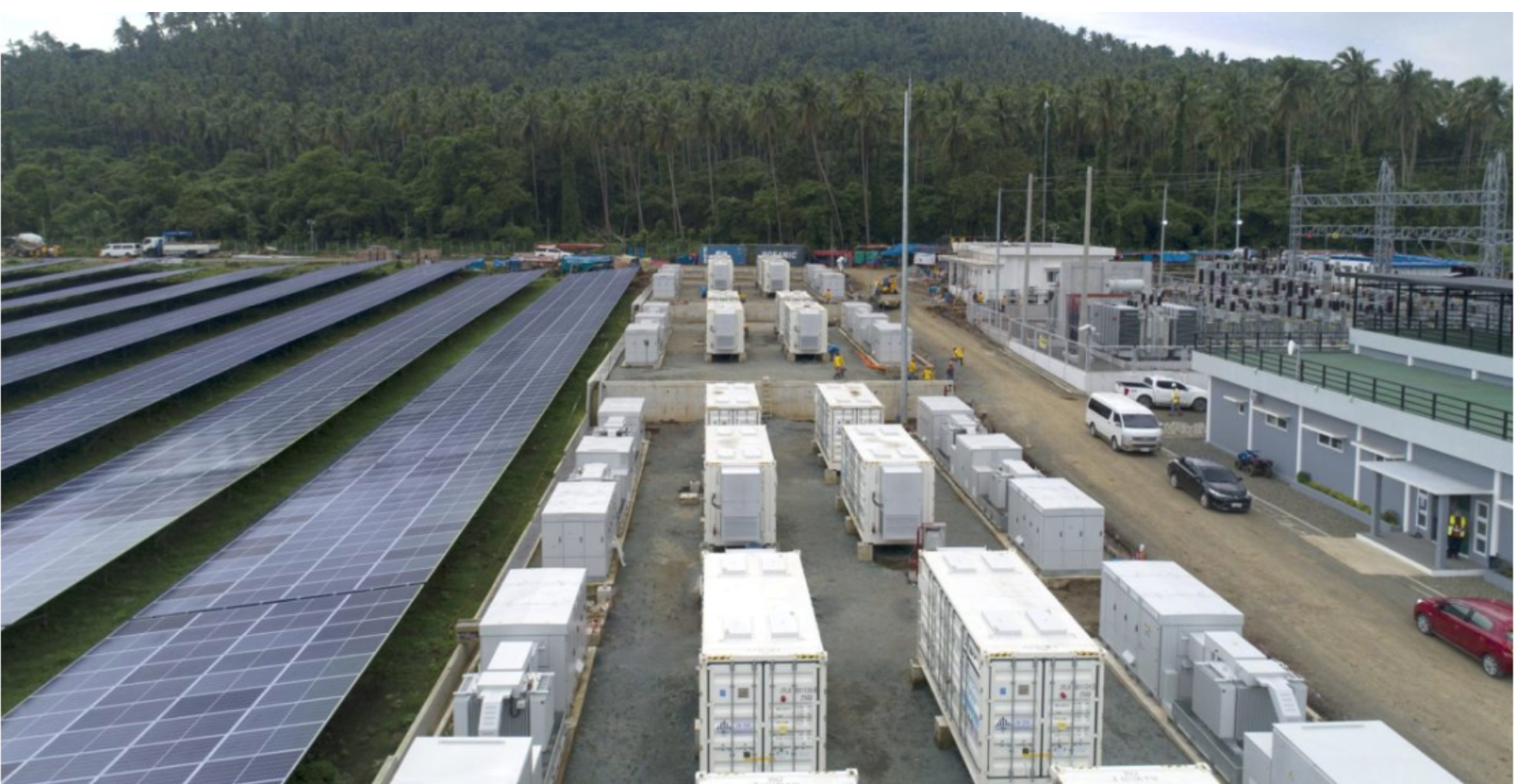 Next Steps with TransnetBW
To keep developing the project proposed by the challenge, we foresee the following activities:
1. Refine studies with Synertics electricity and weather data
2. Compute the economic value period of high-voltage network operators
3. Initiate discussions with renewable park operators for ancillary services
4. Test and validate assumptions
Through this project, we were able to contribute to the future of V2G solutions and forecast an outlook on how the future will look. Moreover, from an internal point of view, this rapid prototyping competition allowed us to make progress in the areas of efficient data exploration, recognizing relationships in apparently uncorrelated data, multivariate data analysis, and visualization of the results, thus validating our mission of delivering the best results for systematic energy analysis.
About Synertics
Synertics provides advisory services and develops digital data-driven solutions for the energy industry with the purpose of driving productivity and transferring knowledge.